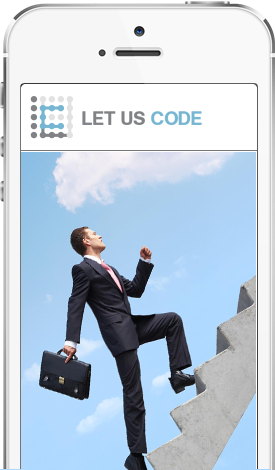 For SMEs
Hire a Team of Experts for Better Processing and Performance
Key Benefits of Outsourcing
With the changing market equations and technologies, SEMs (Small and Medium Enterprises) are pacing up with outsourcing their software development services to outsource vendors. In order to nurture and maintain their business, SMEs need to hire expertise to develop IT architecture, equipments and software stack that costs a lot. Outsourcing helps them to reduce the operational and capital investment, especially at the initial level of a project.
The hired software development team is responsible for the designing, developing, deploying and supporting applications till the successful completion of a project. It's quite effort and time consuming task. Thus, outsourcing their development services SMEs can focus on their core business operations and goals.
A souring association with Let Us Code can help you to deliver quality services to customers, while adding new values to your business. Combining our profound industry insight, technical and analytics capabilities, we offer premium scalable and quality services at fairly reasonable price. We help you to access resources, tools and application with right expertise, and challenge conventional ways with innovative software development approaches. Our prime focus is the design and develop simple yet functional and productive applications that cater the specific business requirements of clients. Leverage our expertise in software and IT infrastructure and experience working with global clients get into reliable and innovative outsourcing association.
Our software or application development services address the evolving small and mid-size enterprises, and ever-changing technology requirements by designing and developing bespoke solutions. We aim to boost end-user productivity, advocacy and business value with quick adoption of new applications.
What are the key benefits of Let Us Code's Outsourcing Services?
Outsourcing your business needs to Let Us Code provides you benefits of the best practices and expertise, increases your business efficiency and productivity with better, faster and cost-effective services.